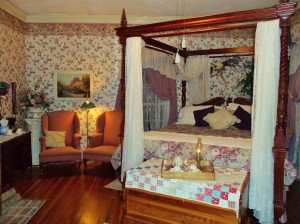 The Lyle room is located on the second floor in the front of the house and has a fireplace, king size bed, private bath with claw foot tub in the room.
The Lyle Room is named after Arch and Edwina Lyle. Arch was the grandson of Maj. Lewis. He was raised here on the farm after his mother, Mary, died when he and his sisters were very young. Arch married Edwina Holland of Nashville in 1943. This was their room when they first were married. Mr Arch had a farming accident which caused him to lose one arm. After this they moved their room downstairs because it was to hard to carry wood up the steps during the winter for the fireplace. This room is decorated with the comforting feel of lavender colors and Victorian highlights.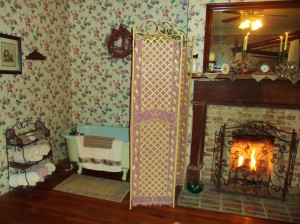 Rate – $95 per night for double occupancy, includes full country breakfast.
Extended Stay – We offer daily and weekly extended stay with home cooked meals available.
Contact Us:
Mandy Williams
110 Camp Lylewood Road
Indian Mound, TN 37079
Phone: 931-627-2116 (always leave message)
email: mandy@lylewoodinn.com