Rooms at Lylewood
Here at Lylewood Inn we strive to create a home environment within our rooms.  All our rooms are different and ready to meet the needs of your family size or your very own private getaway for two.
Rate – $85 per night for double occupancy, $75 per night for single, includes full country breakfast. $10 for each additional person in room. Dinner is available with your stay for an additional $14 per person. Make arrangements when you reserve your room.Extended Stay – We offer daily and weekly extended stay with home cooked meals available.
Live and Learn Camp for Girls 2014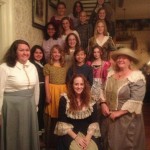 We are looking for girls that want to go above and beyond to live and learn alongside others in their own age group. Different weeks will be designated to host an age group of like interest among campers. Ages 8 – 16 will be included in this program. Only 12 campers per week will be accepted. This allows us to give personal attention to each girl in our loving home environment.
July 13th – 18th: Live and Learn Camps (Girls ages 8 – 12)
July 27th – Aug 1: Live and Learn Camps (Girls ages 12-16)
Price includes: 16 meals (including Friday night banquet), room linens, snacks, camp shirt, awards and certificates, and camp Insurance.
Cost: $175.00 per camper
Deadlines for application & Payment July 1, 2014
Calendar of Events
Annual Events
Back In Time Classes